All the latest updates from Fuggles Beer Café…
Marourde: Meet the maker and tasting
Fuggles Beer Café Tunbridge Wells and Tonbridge, Friday August 2, 5-8pm
We can't wait to welcome William Boscawen and Scott Gebbie from Marourde in Mereworth for an insightful talk and tasting. Their three flavours of gently sparkling mead comprise Hemp & Hop, Manuka Flower & Oak, and Elderberry & Elderflower – they're all delicious, and leading the charge in the recent mead renaissance locally. It'll definitely be the bee's knees…
Broaden & Build: Meet the brewer and tap takeover
Fuggles Beer Café Tunbridge Wells, Wednesday August 7, 5-8pm
If you don't know Broaden & Build, you'd better know! Copenhagen's newest brewery is making some incredible beers, and we're very lucky to be hosting head brewer Tiago Falcone, who's coming from Denmark for a tasting and tap takeover. You seriously won't want to miss this one – head to our Events page for full tap list details.
Tonbridge Calling 2019 and afterparty!
Tonbridge Park and Fuggles Beer Café Tonbridge, Saturday August 10, 12-7.30pm (main festival) and 7.30pm-midnight (afterparty DJs)
We're at this year's Tonbridge Calling festival with a pop-up bar, serving some of our favourite beers, ciders and gins all day, along with plenty of live music and entertainment. The party doesn't stop there, as it's back to our Tonbridge site for live DJs and more drinks until midnight – see you there!
'Au-Geuze-St' festival of sour, wild, funk and mixed fermentation!
Fuggles Beer Café Tunbridge Wells and Tonbridge, Thursday August 15 to Saturday August 31
To celebrate the joys of mixed fermentation, we're running a fortnight of pales, sours, fruit, saisons, farmhouse ales, wild ales and more! Look out for six beers on tap at each site, focusing on breweries that ferment using wild, funky, different or mixed yeast strains. Full details are on our Events page…
Calverley Grounds, Tunbridge Wells, Friday August 23 to Sunday August 25
Paul Dunton's bank holiday bash of local music is back – and we'll be there pouring the beers! Come and see us in Calverley Grounds over the long weekend, and enjoy three days of free live bands in the heart of Tunbridge Wells, along with loads of other brilliant food and drink producers and traders. Get it in your diary and enjoy a few pints…
Tunbridge Wells Beer Weekend
Fuggles Beer Café Tunbridge Wells, Thursday September 5 to Sunday September 8
On Thursday, there's a Verdant tap takeover all day, and Doug's cheese and beer tasting at 7pm, before Friday's rare dark beer tasting, also at 7pm. Our 'Beer School Sessions' on Sunday include a hops and malt talk at 1pm, off-flavours in beer at 2.30pm, a sensory deprivation beer tasting at 4pm, and an all-day 'Best of Belgium' showcase.
A word from our Beer Guy, Alex Greig…
"It's summer, which for me means time to get drinking lighter, more refreshing beers. That's why I'm really looking forward to our Au-Gueze-St festival, where we'll be showcasing some of the best and most interesting mixed-fermentation, wild and funky beers we can find, including some super-rare bits from the US, Belgium and the UK, from the likes of Tilquin, Cantillon, Burning Sky, The Kernel, Little Earth, Fonta Flora, Free Will and Garden Path."
Wild Beer Co 'Murmur' 5% 330ml bottle/30l keg
In the heat, nothing beats a light, refreshing beer, so saisons and sours are great in this weather. Murmur from Wild Beer Co uses a combination of wild yeast and wine cultures to produce a fruity beer with a hint of tartness.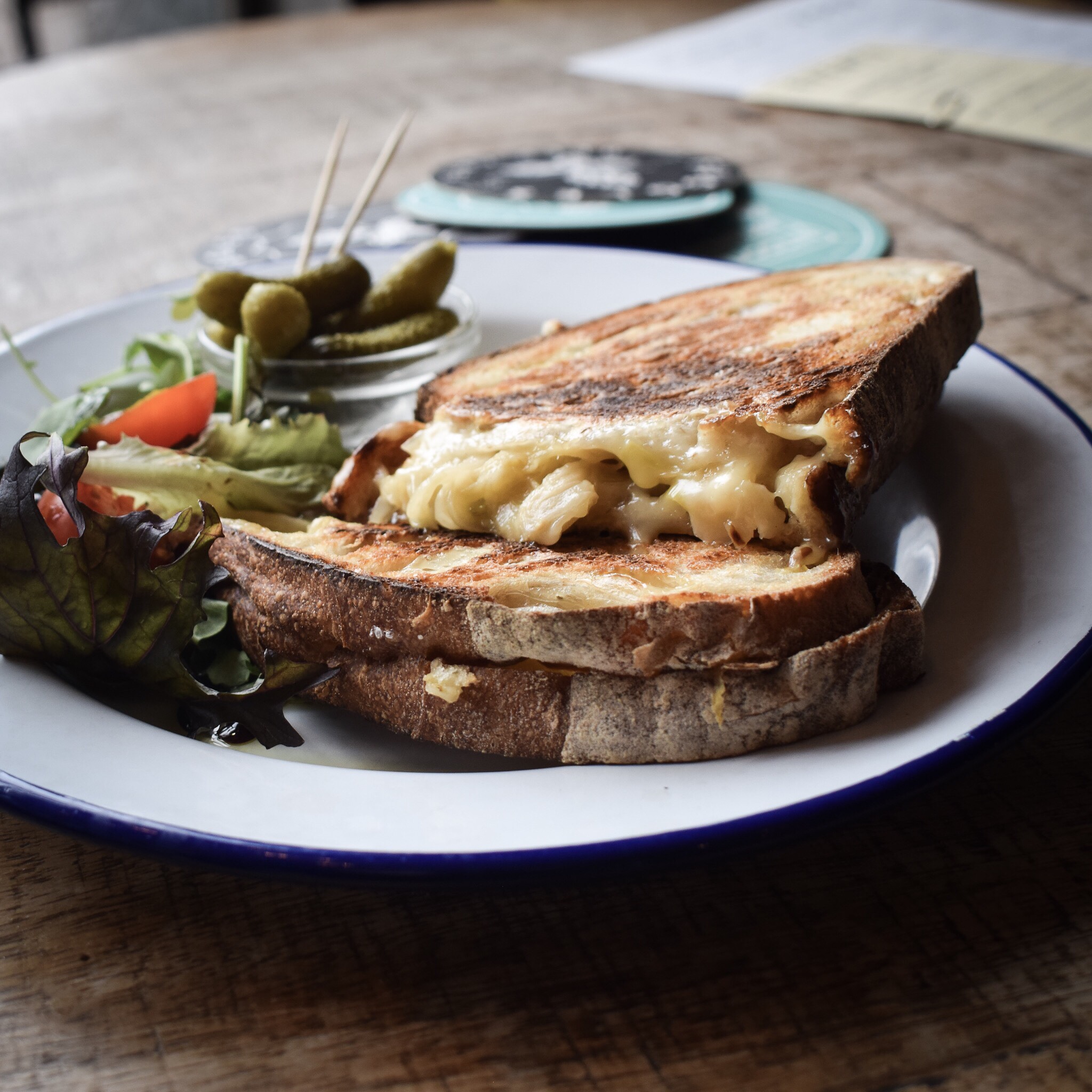 Doug's dish of the month…
Who doesn't love melted cheese? We have a new toasted sandwich with each menu, and are currently featuring 'The Nduja'. Nduja is a spicy spreadable sausage, originally from Calabria in Italy. Ours comes from Capreolus in Dorset, with the all-important melted cheese being an English raclette called Ogleshield, made at Manor Farm in Somerset. Add some tahini dressing, spicy banana ketchup, and the unbelievably good bread and butter pickles from Vadasz Deli, and you have one heck of a sandwich experience! Not only that, but you can also get it as part of our lunchtime offer of a sandwich and a drink from Monday to Friday.
King Stone Dairy
David Jowett was one of the first graduates of the School of Artisan Food on the Welbeck Estate in Nottinghamshire, learning from the cream (yes, I meant to do that) of the UK's (and a certain French cheese guru – ask me when you see me) cheesemaking talent. Since then, he's established King Stone Dairy in Oxfordshire, and developed his skills with some very accomplished cheese. We currently have Little Rollright on the menu, which is a washed rind cheese similar to Reblochon, wrapped in a spruce band, giving a lovely soft texture with a rich, meaty flavour and a touch of pine from the wood.